I've been getting back into the swing of things since back-to-school mayhem (Anyone else have kiddos who struggle with transition?) and then was in Northern California for the Michaels Makers Summit last week (It was amazing! Will do a recap soon), so I haven't been great about projects and blogging, but I had to share these adorable photos of my sister's friend's engagement party last weekend. I go all heart eyes when I see beautiful party decor, and this one is chock-full of great DIY party ideas!
The proposal took place where they had one of their first dates, and then they celebrated with their friends and family afterward. Her fiancé enlisted the help of her friends and roommates for the party, and they did such a great job pulling it all together while keeping it a surprise!
Check out all the fun details, like this fun DIY bunting banner.
And the floral arrangements were a great mix to make it bright and cheery with the perfect balance of greenery.
Love the initials and photos. Her roommate Lydia (who took all these photos) had done a photo shoot with the couple a few months back.
It's all about the details and I love how that flower water catcher even ties in with the decor!
The mix of rustic and glam was just perfect.
How cute is the 'Simon Says Monica' hashtag/banner?! Love those creative personal touches. The gold backdrop is sequin fabric available on Amazon.
They used a Fujifilm Instax for the guests to take photos.
And my favorite part, which I got to help with, were these cute little doughnut rings.
We used a Silhouette Cameo to cut the "diamonds" and then hot glued a toothpick on the side to insert them in the doughnut. Then some fine glitter and glue to make the bride-to-be's doughnut ring extra sparkly. We first attempted with regular glitter and that was a bit of disaster. Fine glitter is key since the diamonds are so thin.  
My sister Julissa and her roommate Kristen with the proposal sign prop.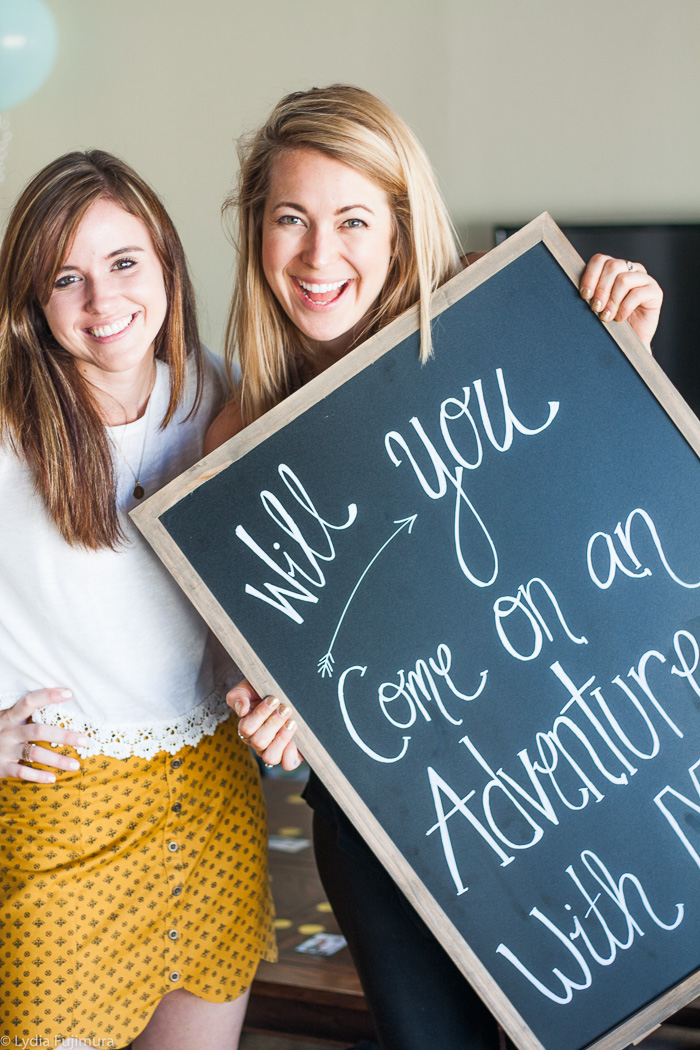 And Lydia captured the magical moment…
Cutest proposal ever!
A big thank you to Lydia Fujimura (check out her insta for more stunning photography!) for letting me share these beautiful photos. And congrats to Monica and Simon!
Thanks for stopping by! You can follow along on Facebook | Instagram | Twitter for more DIY party and home decor ideas.