I can't believe it's Thanksgiving next week (it seems so early this year, right?), but I'm getting pretty excited! And I realized that I attended the Michaels Makers Summit in September, and hadn't shared my recap yet, so here it is!
If you're not familiar with Michaels Makers, it is a group of 50 bloggers who collaborate with Michaels Stores to share inspirational projects each month, and the Summit is an annual gathering for craft classes and mingling. This year Michaels had a contest for 50 other bloggers/makers to attend as well, and I was beyond ecstatic to be chosen!
This year it was held at Carmel Valley Ranch near Monterey, CA., a serene property with stunning views including a golf course, vineyards, lavender fields and even fire pits poolside for s'mores.
When I got to my room I wasn't sure if they made a mistake when they gave me a suite with a swing, soak tub and fireplace on my patio. I could have stayed there all day and not been mad about it!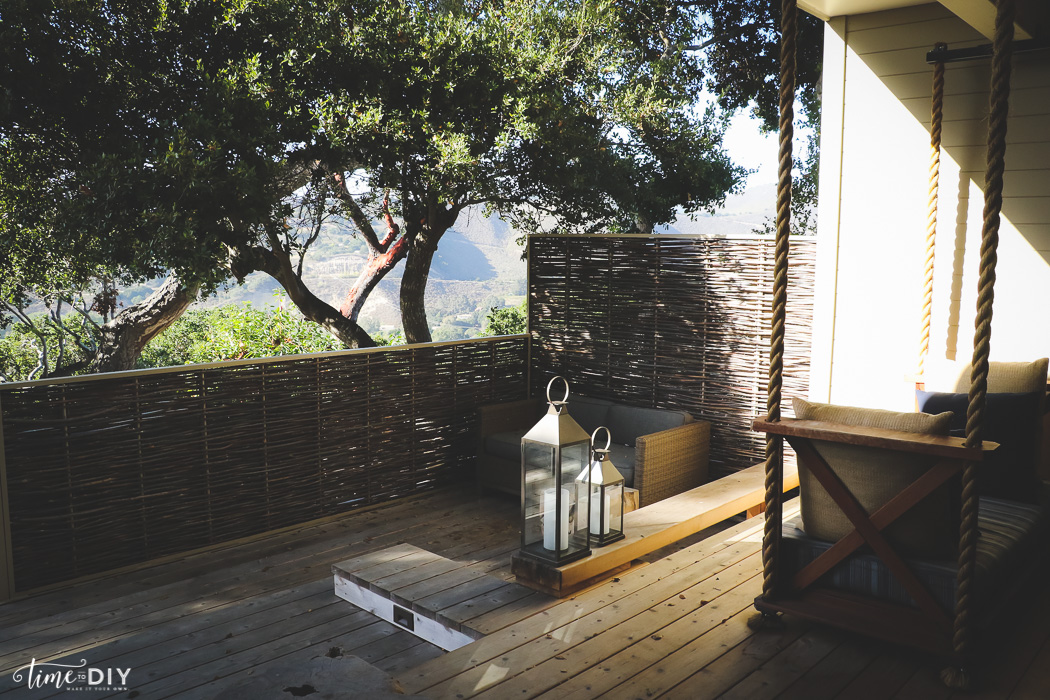 How's that for some outdoor DIY inspo? I need that swing.
There were picturesque views at every turn…
And I had to laugh when I ran into these guys on the way to my room.
I didn't think it could get any better, but then Michaels kicked off the Summit with dinner on the golf course.
Such a cool way to display names and table numbers.
And how fun are these placemats and name cards made with a CriCut?
Sarah Michelle Gellar made a guest appearance to talk about her new company FoodStirs, monthly subscription baking kits with organic ingredients and decorative supplies to create easy Pinterest-worthy treats. (I swear it's really her in the photo – I was too far back and too short to get a good shot).
She started FoodStirs with the goal to bring families together to make memories in kitchen with fun and easy baking activities. She made a great point that we live in a busy society focused on technology to become more connected, but in the process become more disconnected, and she gave the charge to help our kids foster their creativity and use their brains in different ways so "there will continue to be more inventions like the Internet." Love that!
You can check out the kits here. And p.s. Her husband's (oh, you know, just Freddie Prinze Jr.) new cookbook just came out as well.
On day 2, we heard a video message from Heidi Swapp and she even sent gifts! I love Heidi's line, especially her Marquee Love lights and have used them for a few projects (here and there), and now she has the new customizable Light Box, which is so fun! I used it for Halloween decor this year.
Heidi's message hit home: that creating and following your calling is important, to keep making pretty things because the world needs it, and that we have only have 24 hours a day so we need to use it well. I often need that reminder!
After that was a day of crafting (hooray!), and I started with jewelry making and tablescape elements/flower arranging.
I was a self-taught jewelry maker so it was great to learn professional tips and tricks for cute and durable jewelry.
Celebrity wedding designer Mikie Russo talked about some of his wedding planning and how he puts together a table and some tips for fall tablescapes.
It was fun to put these together.
Then a midday break for lunch in the organic garden. 
It was fall beauty all around!
The afternoon was water color and macrame, two things I haven't really dabbled in before.
Water color isn't exactly my forte, but Jane Davenport made it look easy and fun, and allowed us to create at our ability level. Her water color kits are great and will be available at Michaels in January. If you haven't tried it, I encourage you to go for it!
I was excited about macrame! My parents owned a macrame business in the 80s and I'm still surprised it's back, but I love it!
I was intimidated with some of the knotting at first, but finally got the hang of it. I will share my design later when I finish it.
And the best way to cap off the day: dinner on the lawn…
With coloring page runners.
It was an amazing craftcation and Michaels did an incredible job with every detail.I am so thankful for the opportunity, and I'm still in disbelief I was able to go. Proof that it pays to go out on a limb and try!
For more DIY and home decor ideas, follow me on Facebook | Instagram | Twitter.