My son turned five in December and it was his third annual shark party. It's always nice to repeat themes when you have a birthday two days after Christmas!
I used some stuff from previous shark parties as well as some decor from his submarine themed room – I'm all about double duty! Everything else I got from Party City or downloaded Etsy printables (links below).
This is what I started with: a couple old banners (the "Ethan" is currently in his room) and some bunting from Party City.
Then I decided to add in some of his shark crafts, so I dug through the artwork in his room and spent an hour hanging them, only to have him come home upset because I didn't ask him. Lesson learned: don't surprise artists!
It wasn't exactly the reaction I expected, and at one point he even told me that I ruined his birthday, but he eventually forgave me and was showing off all the shark species to the fam.
The cake and cupcakes were the biggest labor of love. I thought it would be easy to cut a shark (I used two round cakes), but it turns out that cake isn't really easy to frost when it's been cut. I felt like I was losing my mind at 2 a.m. and then to top it off, I looked at the ingredient list of the silver spray icing (they might as well call is spray paint) and I was ready to throw in the towel.
But I'm too stubborn, so I finished and luckily he loved it. He named him "Sharka" and told us that no one could eat him, which I was happy about because I didn't want anyone to ingest the spray icing chemicals. It's a good thing I made cupcakes as well!
I wanted the cupcake icing to look like waves so I just used an icing tip that had the lines and did little bumps with it. That's the technical term: bumps. Just kidding – I have no idea what I'm doing when it comes to cake decorating – I just wing it.
I used Etsy printables for the liner and topper.
Here is the rest. One of his shark creations was a perfect centerpiece for the banners.
Love Panera catering when you need some easy lunch options.
Once I added the balloons, it was a lot. But I like a little over the top for birthdays. 😉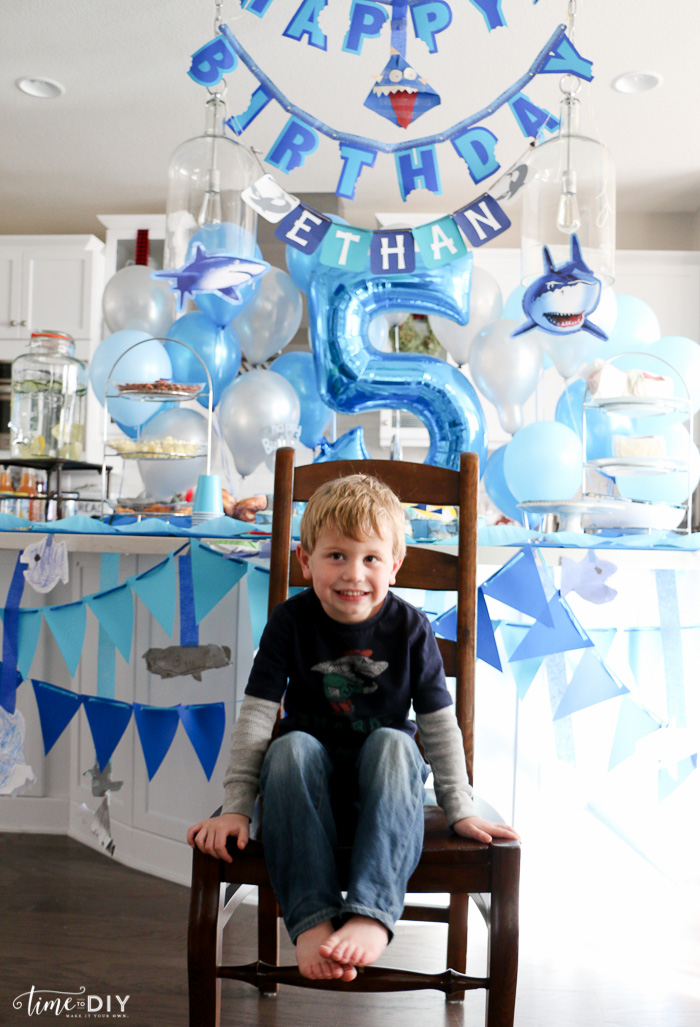 He also enjoyed a game of sharks and crocodiles with the fam.
I downloaded some shark party photo booth props from Etsy – those were a big hit.
It was a fun "5" birthday!
Etsy printables links (all instant downloads):
Shark Sighting: Enter at Own Risk sign – $2
Shark fin cupcake toppers – $7
Photo booth props – $7