Before 2017 comes to a close I wanted to share my girl's unicorn party! I'm using "party" loosely since we didn't actually have a party, but I decorated at least. 😉 We have two kid birthdays in December so I've been known to throw some party decor together last-minute since it's the middle of Christmas craziness. Sharing some easy and budget-friendly ideas and must-haves for pulling together some high impact birthday decor that your kiddos will love!
I always set up a table as a centerpiece for eating cake and opening presents.
Balloons are usually my backdrop because they are easy. I get mylar so I can get them the day before. I was so excited to see rose gold as a color option at Party City!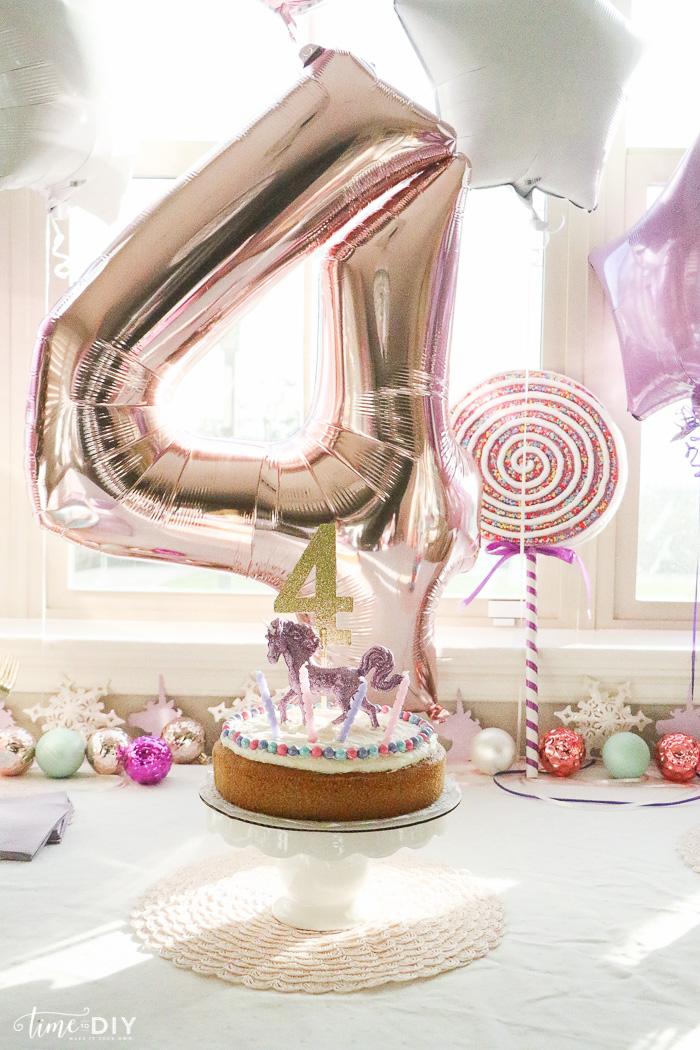 I used a white polka dotted table cloth I already had, but if I don't have a table cloth that works, I will sometimes get some fabric that matches the color scheme. And if I'm in a big hurry, I will just get a plastic cloth at Party City. I usually print a banner from Etsy, but loved this one from Party City so just used that. And then I threw some bows on the end to dress it up.
I often get a few plain colored paper goods from Party City or Hobby Lobby, but I couldn't resist these cute unicorn plates from Target. And gold plastic cutlery is one of my faves! Just gives it a bit of an elegant touch.
I also use gifts as decor. I found that unicorn (it's a piggy bank) at Home Goods. I've also wrapped gifts in themed paper and included them on the table.
Along with the balloons, the cake is another element of the centerpiece.
I got the cake from Cloud 9 Bakers, a local gluten-free/dairy-free bakery, and I bedazzled it with the colored beads (that I removed before eating) and cake toppers. The "4" is from Hobby Lobby and the unicorn was an ornament I found at Pier 1.
I always shop my house and work with what I have, so since it's a December birthday, I dipped into some Christmas decor.
I got the bulbs on sale at Michaels – they were the perfect colors for a unicorn party.
And then I cut out some unicorns on cardstock and glitter paper using my Silhouette Cameo.
I also used some of the bulbs on the table.
My daughter picked out the lollipop. It didn't exactly go with the unicorn theme, but I made it work because she liked it. We used it for her photo shoot as well.
I found these at Party City – I always love having some photo props! I used the extra beads from the cake to fill the glass container.
This balloon didn't fit with the backdrop so I put her off to the side.
And have you seen these pet balloons? We found this unicorn at a local party shop on her birthday. It was a huge hit!
I got her headband (I added the purple bow) from Hobby Lobby and got her tutu dress on Etsy. The tutu dress was really big and open so I added the white tee shirt dress underneath.
It was a magical day!