How was your Valentine's Day? I hosted a Galentine's Day tea with a couple friends (will share soon) and then enjoyed a simple afternoon with the kiddos. I wrote "I love you because…" notes for them to find when they got home from school and they decorated gingerbread houses with Valentine's Day candy. Yes, you read that right: gingerbread houses. I didn't get to that activity over Christmas so I improvised, haha. And guess what, the kids loved it! Then my hubby and I topped off the day with some Florida stone crabs from Joe's for dinner (thank you to my in-laws for the gift certificate)!
My Valentine's decor will be up all February. This year I went with more pinks and neutrals and I loved it! This was my inspiration for the color scheme…
I had those little plates from Magnolia Market in the cabinet and decided that they needed to be on display! You will see that I included 'love" in a few places around the house, as a reminder to our whole family to spread a little more!
Love blush pink, and then I found some blush pink scrapbook paper so I put that to good use as well and made the Heart by CC DIY heart and the 'Make the World a Better Place' frame.
This was such an easy DIY that can be used all year.
And this one is a kit from Heart by CC – another fun one with all the details here.
This is a great cozy corner to read a book, but somehow that never happens, haha.
And here are the shelves on the other side of my fireplace/TV.
I ordered that cute heartstagram frame from Framebridge and included a shot from our Valentine's Day pics last year, and gave them our moms and grandmas for Mother's Day gifts and one for myself to use for Valentine's/summer decor.
And I recently updated these photos and checked off one of my 2017 goals!
Love that itty bitty heart from Blossoming Burlap.
I had some extra scrapbook paper so I made a 'love' banner for the wreath above the couch.
It was super easy to make: I cut rectangles and folded them in half, then cut squares in the different pattern and hot glued to some baker's twine. I got the letters at Target Dollar Spot.
I didn't do much in the kitchen except hang these balloons.
My six year old asked why I would hang 'be mine' because it was rude and impolite to ask someone to be yours. He's got a point! Haha.
One of my friends got me this cute succulent heart that I put on the kitchen counter. Succulents are my plant love language.
I kept it simple in the dining room with our everyday gray runner and some flowers.
I used some roses for my Galentine's tea, here is a sneak peek.
And here is one of the Valentine's houses the kids made.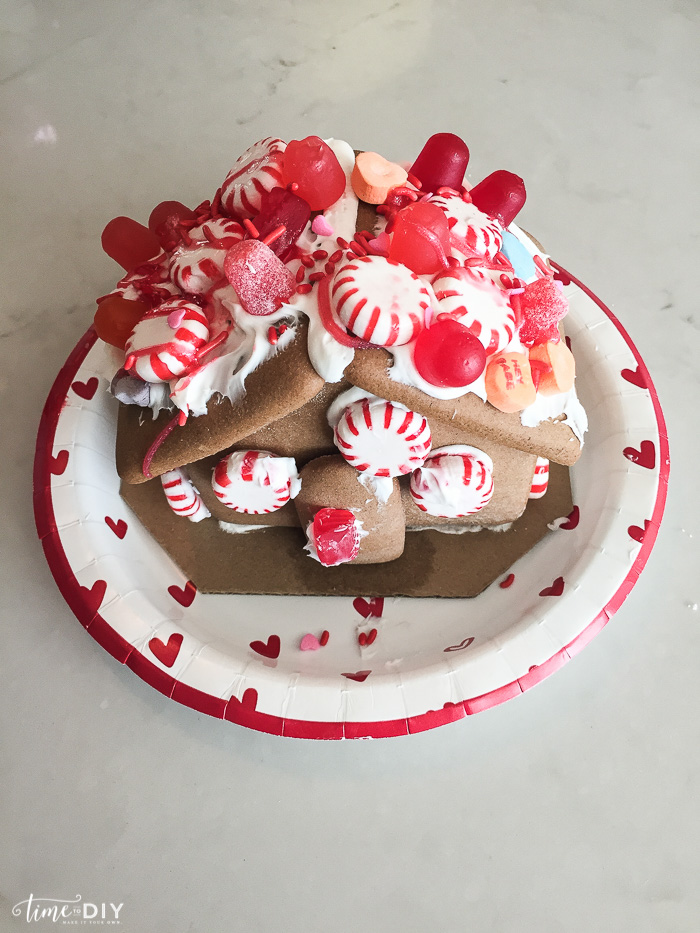 I personally think gingerbread is perfect for Valentine's Day. 😉
A few weeks ago I posted a Simple Teacher Valentine – this was this year's version with some different paper.
It's an easy and fun one for the kiddos so file that one away for next year!
Hope you're having a great week!
Follow me on Facebook | Instagram | Twitter for more DIY holiday ideas and decor.